'Palestinians' using own "civilians" as shields, the BBC bias & Throwing stones-ROCKS at civilians
'Palestinians' using own "civilians" as shields, the BBC bias & Throwing stones - ROCKS at civilians
The BBC who is still in the mess of the documentation in it's Arabist twisted biased & often bigoted views against Israel, has an article about "human shields".
What? you thought they were talking about "Palestinian" Arabs ALWAYS using their OWN civilians?
http://geocities.com/palestiniansarelies/HumanShields.html
?
Nope they are obsessed with those [unusual] stories as IF IDF uses (rarely) 'Palestinian' civilians to shield themselves... which doesn't make too much sense, since the Arabs are the first that would want to harm other Arab civilians when they can pin it on the "Zionists", in order to fulfill their Islamofascistic duty of tarnishing non-Muslim Israel...
The BBC's link is at
http://news.bbc.co.uk/2/hi/middle_east/6554487.stm
There, in order to dramatize even more their anti-Israel bigotry, they typically showa totally unrelated but propaganda type picture of kids "throwing stones at IDF", but of course do NOT show throwing stones at civilians, often injuring innocent unarmed Israelis passersby, which Arabs do all the time.
Here's more about "Throwing Stones:.
http://www.honestreporting.com/articles/critiques/Throwing_Stones.asp
Throwing Stones
An example, The child - Yehuda Shoham R.I.P.
http://www.shilo.org.il/shoham/yehudaShoham.htm
Before-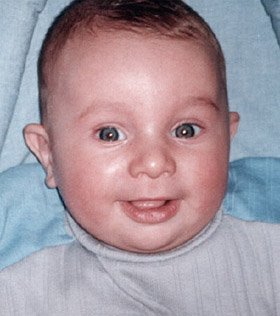 The Rock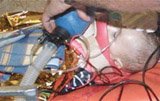 ---
The 'Palestinian' Heinous Crimes of using own civilians as human shields




Dear friends, They say that a picture is worth 1000 words. We believe that the following photographs demonstrates vividly the moral issues facing Israeli troops when confronting armed Palestinian gunmen taking refuge among children and civilians. When taking into consideration this terrorist tactic -- operating from within civilian population -- one can only appreciate the relatively low Palestinian civilian casualty rate caused by IDF soldiers. Look at the photographs. Read the original captions. Examine the environment. See the civilians.




---


More Shields




Even their own Media Documents the use of Kids as Shields


Just as they use their own kids as human bombs...




---


Palestinians Use Children as Cannon Fodder
Tulkarm, West Bank - In a rare letter of protest sent in early December to Palestinian leader Yasser Arafat, a Palestinian women's group demanded that the Palestinian Authority stop using children as cannon fodder.

"Our children are being sent into the streets to face heavily armed Israeli soldiers," said the letter from the Tulkarm Women's Union - a local branch of the Palestinian Women's Union, a trade-union group that promotes the status of women in the Palestinian Authority.

"The Palestinian Authority must put an end to this phenomenon. We urge you to issue instructions to your police force to stop sending innocent children to their death."

The letter adds weight to complaints from parents who are beginning to speak out despite what they say has been months of intimidation by armed gunmen loyal to Arafat.

'We don't want to send our sons to the front line, but they are being taken by the Palestinian Authority," says Aisheh, 43, a mother of six in the West Bank city of Tulkarm. She says she decided to speak out after her 17-year-old son was hit in the head by a rubber bullet. He suffered a concussion.

Like other protesting parents, Aisheh declines to allow her full name to be published for fear of reprisals. A nurse from Gaza who spoke out on Palestinian TV against sending children to the flash points was condemned in the Palestinian media as a traitor. Other individuals who refuse to allow their names to be published say they have been threatened by armed Fatah officials for discouraging their children from participating in the clashes.

Israel has faced international criticism for the deaths of at least 38 youths under the age of 17 in the first two months of conflict in which nearly 300 people have died. Nearly 1,000 children have been injured. The Palestinians consider anyone under the age of 17 a child. But children just entering their teens-and some even younger-have been injured in the region's worst violence in nearly a decade.

Bassam Abu Sharif, a special adviser to Arafat, has accused Israeli troops of "cold-blooded killing." He denies Israeli accusations that the Palestinian Authority has placed children at the front of demonstrations to act as human shields for armed gunmen.

"We don't send children-nobody can send children-and we don't hide behind children," Abu Sharif says.

But Aisheh says the militia of Arafat's Fatah movement and the Palestinian security forces provide transportation and encouragement to children eager to answer the call to combat Israel's continued presence on Arab land. "When school finishes, Palestinian Authority security cars go around collecting children from the streets and sending them to the killing fields," she says. "This is very serious because they are children and they are unarmed."

Israeli army chiefs point out that not all the children killed in the recent clashes have been innocent bystanders. They say their snipers have orders to shoot anyone shooting or throwing Molotov cocktails at them, but some of the attackers have been as young as 12.

Palestinian Authority TV broadcasts constant images of children carrying weapons and staging mock attacks on Israelis. Over the summer, children as young as 12 were trained in the use of Kalshnikov rifles and other weapons at special camps by Fatah officials.

"As the number of those killed rises, the Palestinian media extol and exalt not only those killed, but also their willingness to die as martyrs for Allah, emphasizing that dying a martyr's death was the realization of their hopes," says Itamar Marcus, director of the Palestinian Media Watch monitoring group.

Palestinian Authority TV and newspapers also have come under fire, accused of encouraging children to throw stones and Molotov cocktails at armed Israeli troops.

Aisheh's husband, Abdelghani, says intimidation has kept parents from speaking out. "No one here dares to say publicly that he is against sending his own children to the front line," he says. "Some parents who have tried to protest have been condemned as fifth columnists (traitors) and threatened." More:

When Attacking Israelis - Palestinians Use Children as "Human Shields"




---
ISRAEL TO U.N.

"KEEP PALESTINIANS FROM USING

KIDS AS SHIELDS"







By Herb Keinon, THE JERUSALEM POST

November 8, 2000

United Nations Human Rights High Commissioner Mary Robinson is to begin a week-long visit to the area today, with Foreign Ministry officials saying they will present a strong case to her about the Palestinian's "cynical" use of children as human shields in the recent riots.

Foreign Ministry legal adviser Alan Baker said the use of children in the violence constitutes no less than a "war crime," and cites various international conventions to back up his position. Various international treaties, Baker says, set the age of 15 as minimum age for a child to participate in hostilities, whether directly - through combat - or through other means.

According to Baker, the Palestinians are well aware of the IDF's firing procedures: tear gas and water hoses against rock throwers, rubber bullets against firebomb throwers, and live fire against gunmen.

Prime Minister Ehud Barak explained that the Palestinians are placing the stonethrowers in the front lines, followed by the fire-bomb hurlers and then the snipers. In some cases, he said, some of the Palestinian youths killed during the clashes have actually been shot from behind.

The use of children as combatants was spelled out last week in a letter Israeli Ambassador to the UN Yehuda Lancry wrote to the executive director of UNICEF, asking the children's rights advocate to pressure the Palestinians to keep their children out of areas of potential conflict.

"Chairman Yasser Arafat, who is ruthlessly encouraging the involvement of children in the violence, calls them 'the Generals of the rocks.' He would have the world believe that Israel, with its guns and helicopters, is waging a war against 10-year-olds with small stones," Lancry wrote. "In truth, however, the children... are used as human shields for the gunmen, bomb throwers, and lynch mobs whose faces have been totally obscured and invisible to the media."

The message seems to be getting through, at least at a declarative level.

Yesterday, PA Information Minister Yasser Abed Rabbo said, "There has been an overwhelming agreement among Palestinian factions to carry out a public-awareness campaign to prevent those children under 16 years old from taking part in these demonstrations." According to Abed Rabbo, the children are not knowingly being used as cannon fodder, but rather take part in the protests as a genuine expression of pain and grievance.

The problem, Baker says, is that children at that age are incapable of making the kind of logical decisions regarding whether to place themselves in life-threatening situations, and are in need of parental guidance and authority to protect them.

Regarding Robinson's visit, Mordechai Yedid, deputy director-general of the Foreign Ministry's UN and International Organizations division, said Israel will receive her as the head of the UN's Commission on Human Rights, but not as part of a human rights inquiry commission the body set up last month after adopting a one-sided resolution condemning Israel for "war crimes" and "crimes against humanity" in the West Bank and Gaza Strip.

Israel, said Yedid, has informed Robinson that it will not cooperate with the body, or in any way assist it in implementing the resolution.

During her two-day visit, Robinson will meet with Foreign Minister Shlomo Ben-Ami, Justice Minister Yossi Beilin, and Supreme Court President Aharon Barak. A meeting with Prime Minister Ehud Barak is still in the works.

She is scheduled to go to the Palestinian Authority on Friday, where she is slated to meet Arafat and will surely be flooded with numerous allegations of Israeli human rights violations.

Robinson is a former president of Ireland and is seen as a possible candidate in the race to succeed Kofi Annan when his term as UN secretary-general expires in two years.




Palestinian Youth Sacrificed As Political Camera Fodder


Hamas Using Women to protect their terror from their mosque



10 killed as terrorists use human shields






Arab Terrorist's Wife Used Baby to Hide Grenade




Related links:



Palestinian Children Die as Human Shields for Adult Terrorist Leaders



Human Bombs, Human Shields - The United Nations & Israel



'Palestinian' Horrendous Tactics of Human Bombs



http://www.intelligence.org.il/eng/bu/women/women.htm



http://frontpagemag.com/Articles/ReadArticle.asp?ID=13626



http://www.intelligence.org.il/sp/6_04/amb_6_04.htm



http://www.jewishvirtuallibrary.org/jsource/myths/mf18.html



http://www.israelnewsagency.com/palestinianterrorismchildren120314.html



http://www.israelnewsagency.com/plochild.html



http://www.icej.org/cgi-local/view.cgi?type=headline&artid=2002/11/26/112357482



http://www.ujc.org/content_display.html?ArticleID=78521



http://www.tzemachdovid.org/Arab_Violence/shield.shtml



http://www.jcpa.org/jl/vp441.htm



http://www.aish.com/jewishissues/jewishsociety/U.N.s_One_Small_Step.asp



http://www.aijac.org.au/review/2002/274/int_law.html



http://www.honestreporting.com/articles/45884734/critiques/Children_Under_Fire.asp



http://www.israeltoday.co.il/Default.aspx?tabid=132&view=item&idx=76



http://www.littlegreenfootballs.com/weblog/?entry=9838



http://www1.idf.il/SIP_STORAGE/DOVER/files/8/31468.pdf.



http://www.c4israel.org/articles/fall2004/html/martyrs.html



http://www.carmical.net/articles/israel.html






More on Human Shields - from http://www.anti-cair-net.org/



U.S. doctors: Palestinian intifada abusing children



Kids - the main force of the Palestinian Front



Palestinian Children Die As Human Shields For Adult Terrorist Leaders



YouTube - Palestinians Using Kids As Human Shield This video shows the use of children by This video shows the use of children by the Palestinian terrorists as a human shield from the IDF. ... (more) (less) ...



Melanine.org - Human shield in Gaza



CRIMINAL USE OF CHILDREN






More...


Palestinian Crimes of HUMAN SHIELDS, Beit Hanoun (Nov, 2006)

Amazing how effective it is, their tactics, after all, the mainstream media didn't blame Huzbullah when doing that in Qana, that only boosted the Palestinians to continue using their civilians as bombs and as shields. Anything to demonize the Zionists.



Beit Hanoun: A hub of terrorist activity http://www.mfa.gov.il/MFA/Terrorism-+Obstacle+to+Peace/Terrorism+and+Islamic+Fundamentalism-/Beit+Ha noun-+a+hub+of+terrorist+activity+5-Nov-2006.htm?DisplayMode=print



Beit Hanoun: Women act as human shields http://www.ynetnews.com/articles/0,7340,L-3324081,00.html YNet, Israel - Nov 5, 2006... Men leaving city accompanied by women who act as their 'human shields.' Residents report ... On the way from Erez Crossing to Gaza City is the town of Beit Hanoun. ...



Hamas Uses Women as Human Shields Omega Letter Intelligence Digest (subscription) http://www.omegaletter.com/articles.asp?ArticleID=5991



Terrorists Hide Behind Civilians Arutz Sheva IDF Operation Autumn Clouds In Gaza To Continue ThreatsWatch.Org http://inbrief.threatswatch.org/2006/11/idf-operation-autumn-clouds-in/



http://today.reuters.com/News/newsArticle.aspx?type=topNews&storyID=2006-11-06T145946Z_01_L12263 400_RTRUKOC_0_US-MIDEAST.xml&WTmodLoc=NewsHome-C1-topNews-7



Israel Uncovers Female 'Terror Network' The Media Line, NY - 5 hours ago... More than 55 Palestinians were killed in the operation, including several civilians ... civilians were caught in the line of fire while being used as human shields. http://themedialine.org/news/news_detail.asp?NewsID=15612PALESTINIAN ARABS ONCE AGAIN USE WOMEN AND CHILDREN AS HUMAN ...Dafka - Nov 5, 2006 Palestinian terror organizations used woman and children as human shields this past weekend ... In response, the Palestinians organized a human shield of more than ... http://www.dafka.org/NewsGen.asp?S=4&PageID=1320



Stratfor

http://www.stratfor.com/products/premium/read_article.php?id=280013



GAZA STRIP: Palestinians use women as human shieldsPeoria Journal Star, IL - Nov 3, 2006... of women who streamed to the scene to serve as human shields, killing one and ... More than 20 Palestinians, most gunmen, have been killed since the offensive began ... http://www.pjstar.com/stories/110306/pm__BBE5F07L.012.shtml

Women acting as human shields aid escape of Palestinian militants Los Angeles Times, CA - Nov 3, 2006... who were rushing toward the shrine to serve as human shields. Two of the women were killed on the third day of fighting in the Gaza Strip town of Beit Hanoun. ... http://www.latimes.com/news/nationworld/world/la-ex-mideast3nov04,0,2270037.story?coll=la-home-headl ines









Technorati - 'palestinian' terrorism War on terror Terror victims 'palestinian' propaganda jihad Genocide bombing Anti Israel bias Arab racism Anti Israel racism Islamofacsism Conflict Israel "Palestine" "Palestinians" Israelis Good VS evil Israel "Palestine" 101 Jewish refugees Moderates Islam Radical Islam Militants Arab occupation PLO Arab Muslims Indoctrination Arab hatred Muslim hatred 'Palestinian' hatred Indoctrination 'Palestinian' Child abuse Death cult 'Palestinian' human shields 'Palestinian' human bombs Arab oil lobby Arab oil mafia Islamic Aparthied Ethnic cleansing Hebron massacre Arab atrocities Damour massacre Hebron massacre Politically correct Hebron massacre "Palestinian" propaganda Arab propaganda Arafat Al Aqsa Al Aqsa martyrs brigade Fatah Hamas Arab racism mufti Islamic Jihad Jerusalem Jihad Holyland Netanya bombing Jerusalem bombing Passover massacre Jerusalem massacre Death cult Israeli democracy Jenin hoax Abu Abbas IDF IDF Moral Achila lauro Arafat Black September Damour Arafat Yasser Arafat IDF Humanitarian IDF Moral Israel humanitarianMunich 1972 Gaza beach hoax Gaza Self defense Security Human shields Wall Fence Arabism Civil war Info 'Palestinian' Drama Language Kidnapping Journalism Throwing stones Throwing rocks BBC Pallywood

Labels: anti israel bias, Anti Israel Bigotry, Arab Racism, Arabs, BBC, Eurabia, Human bombs, Human shields, Islamofascism, Israel, Muslims, palestinian lies, Pallywood, rocks, throwing stones